Outdoor Specialist, Inc. finishes major project for Hampden Township
Completion Date: February 2023
Location: Hampden Township, Cumberland County, PA
Coordinates: 40.234478, -76.967989
Major Partners:
Installer: Hillis Outdoor Specialist
Rock Drilling: by Eastern Caisson Corporation
In early 2023 Outdoor Specialist, Inc. completed a unique project for the Township of Hampden, Pennsylvania. This spectacular welcome sign is in a high impression corridor of Hwy 581, the Capital Beltway. The 14' x48' sign, featuring a digital display, will boldly display community messages and revenue-generating advertisements to traffic on the Capitol Beltway.
A hallmark of Outdoor Specialist, Inc. is our ability to bring the right partners together, to accomplish what others deem impossible. Only by working with our affiliates, local officials and the advertiser, were the many challenges this project presented, overcome.
A major design challenge was a zoning that limited signage at the installation site to 23 feet above grade. The installation site had to be graded up 6 feet to get the structure to sit high enough for interstate and be within the height limit. The grade's engineering called for compacting every 6" of added material.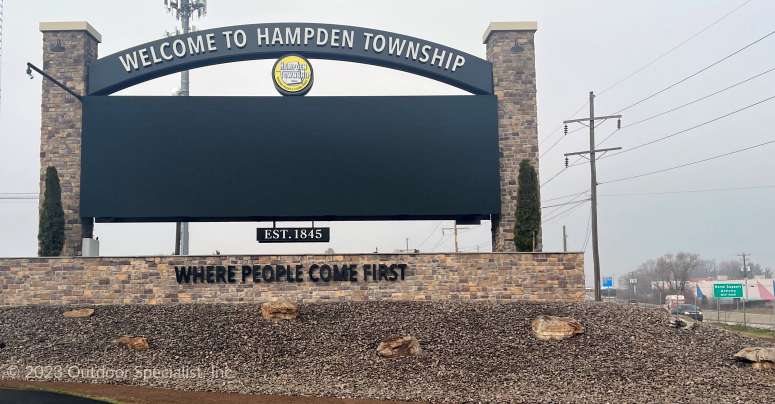 As usual, while you can do all the required tests, you cannot always anticipate what your drills will encounter. In this case unexpected rock structure called for a specialized equipment and expertise. Eastern Caisson Corporation of Glen Rock, PA brought in a rock auger to drill both column foundations.
The steel structure and digital installation went with the precision we expected. Once all the structural work was done, the cladding sheeting and stone was applied.  The final touches added the arch, motto, and township logo before finishing the landscaping.
This project went extremely well and the township and our customer were very happy with the results. A unique feature of this project is that while the sign is on township property, it did not cost local taxpayers a thing! In fact, the new sign will generate revenue for Hampden Township! Another benefit is that the township and volunteer fire department will be able to post community notices as well as advertise community and recruitment events for free.
Additional details can be found at the official Hampden Township website.